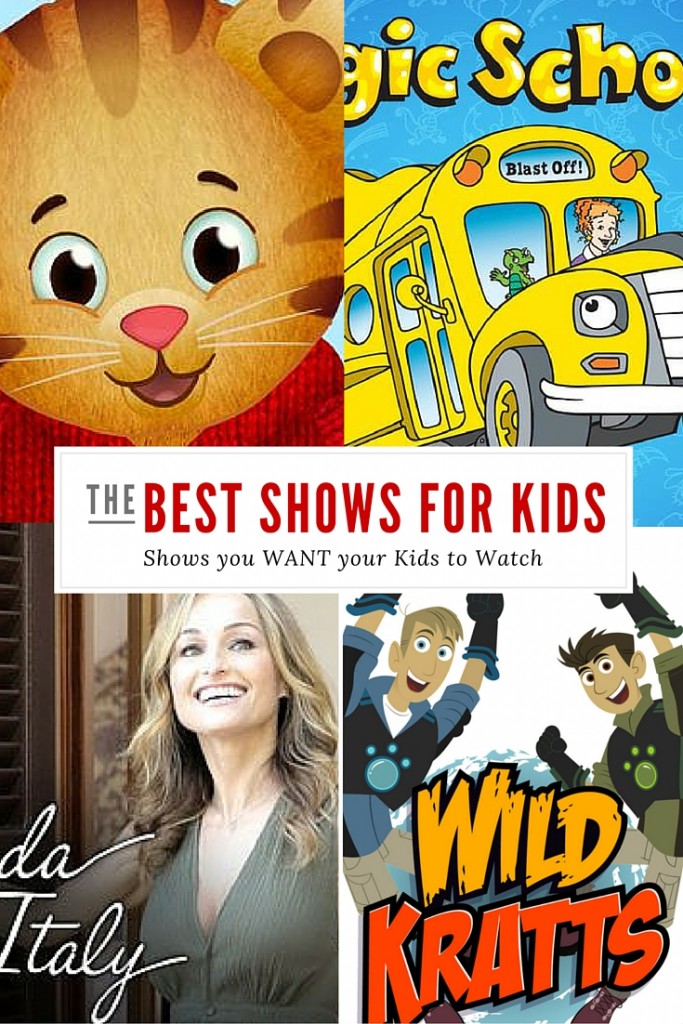 We all know the American Academy of Pediatrics does not recommend TV for ages blah, blah, blah. Well, that's just fine & dandy if they are willing to come watch my kids for a few hours so I can make breakfast, lunch & dinner for said children!
Seriously, though, I do try to limit the amount of screen time my kids get. But when you hear your 3 year old counting backwards from 10 and realize you didn't teach her that, you let up on the "mom-guilt" and allow your kids to watch Mickey Mouse Clubhouse.
The following are a few shows I can feel good about my kids watching…
Daniel Tiger's Neighborhood
PBS, Netflix, Amazon Prime 
This show kind of annoys me. I can't stand Katerina and her "meow meow" after every single sentence! BUT I love how relevant this show is to kids. It teaches tots and preschoolers how to handle their emotions and new situations. Every episode has a phrase put to music to help kids remember what they learned. For example, "When you get frustrated, take a step back, and ask for help." On a side note, my kid doesn't take too kindly to me when I sing this to her in her moment of frustration. Heh heh. Another side note: this is an animated spin off from Mr. Roger's Neighborhood with all the characters you remember watching when you were a kid.
Wild Kratts
PBS, Netflix, Amazon Prime
I WANT to watch this show with my kids. There's so much to learn! The animal-loving Kratt brothers have been around for a while. I remember watching Zoboomafoo with my little brother when he was a wee one. This show introduces some animals at the beginning of the show and the Kratt brothers have a "what if" moment where they enter the animated world and continue the adventure. I love that this show teaches facts about animals that I don't know and therefore could not teach my kids. Lots of shows teach counting and shapes and colors, but Wild Kratts is unique in that you probably won't find this info on any other kids show.
We were in the store the other day and G saw a picture of an eagle and says, "Look Mom. It's a harpy eagle" I was like, "Huh?" I thought she just wasn't making sense until she said it a few times, and I remembered she had watched Wild Kratts that morning and learned about a bird. The harby eagle? Harpy eagle? I didn't even know! Are you smarter than a 3 year old?
Cooking Shows
Giada at Home, Giada in Italy, Pioneer Woman
It's strange I know, but hear me out. My kids love watching the Food Network with me, and it gets my 3 year old excited about trying new food. She says, "Ooh let's make that Mom!" About everything. If you have a picky eater a cooking show might be worth a try! Kids are more likely to eat food they help you make.
I have no idea why my kids like cooking shows so much, but they do. My favorite chef is Giada DeLaurentiis, and just yesterday G told me, "I like watching that lady." Then Barefoot Contessa came on and she said, "No! I don't want to watch her!" Haha! My sentiments exactly G. They seem to like the Pioneer Woman too. Both shows have kids in them at least occasionally, and I think that makes a difference. I absolutely LOVE being snuggled on the couch, watching Food Network with my kiddos.
Magic School Bus
Netflix
My third grade teacher used to record episodes to show us during lunch. It was such a treat to watch the Magic School Bus. I loved the eccentric Ms. Frizzle and her unusual field trips. I was so excited to find it on Netflix. That being said, the science may not be up to date. In episode 1 the class goes on a field trip to outer space and visits all 9 planets. That's what I was taught in school, but kids these days are being told there's 8 planets. Of course, then I heard they (whoever they are) are changing it back to 9 planets, and Pluto gets to join the club again. C'est la vie.
What about you? What shows have you found that your kids like? Share in the comments!