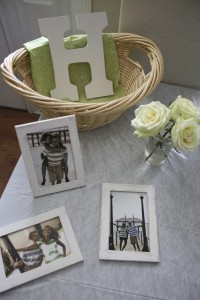 My sister's bridal shower was last weekend. It was a perfect channel for my need to create. If you don't know it already, I should tell you now that I am super frugal. Why spend $10 when I can spend $1 and make something myself! It's cheaper and so much MORE fun! So this is officially Lisa's version of a frugal, DIY wedding shower.
The frames are 4×6 wood frames that came 2 in a package at the dollar store. I painted them with a dry brush using white acrylic paint to give it the imperfect finish (perfect with the beach scene photos).
The flowers are from Sam's Club. I bought them about 3 days early so they were in full bloom for the shower. And the glass containers are a jelly jar and olive oil bottle I cleaned out when we used up the contents. Now that's recycling! And cheap!
This picture has another 8×10 frame (dollar store & paint) and I glued on an "H" that I bought from a craft store. The little white vase below was $.99 at goodwill. So cute!
For more variety I painted a few soup cans with white acrylic paint and used those as vases too. I chose different sized cans to pair together. They probably aren't something you'll want to save and reuse. They did start to rust on the inside.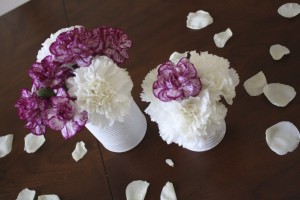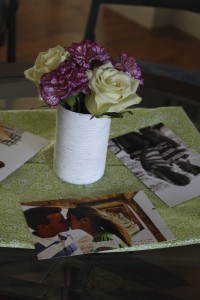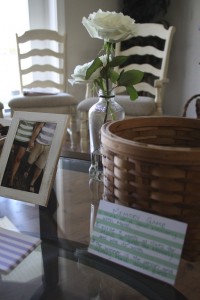 Chocolate covered pretzels are a great favor. I've used them for more than one party. They're really easy to make. They just take a little time depending on the number of people and how many you plan to give per person.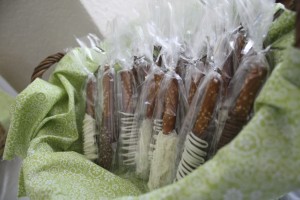 What's your favorite favor to give or receive?