And they are healthy! Boom! How did that happen? I have no idea. I have tried to make pumpkin muffins and bread so many times before and they were never pumpkin-y enough. or moist enough. Or they just lacked flavor and Oomph, ya know? I had resigned myself to paying for a Starbucks Pumpkin loaf because nothing else that I made ever hit the spot.
Enter the Spelt Pumpkin Muffin.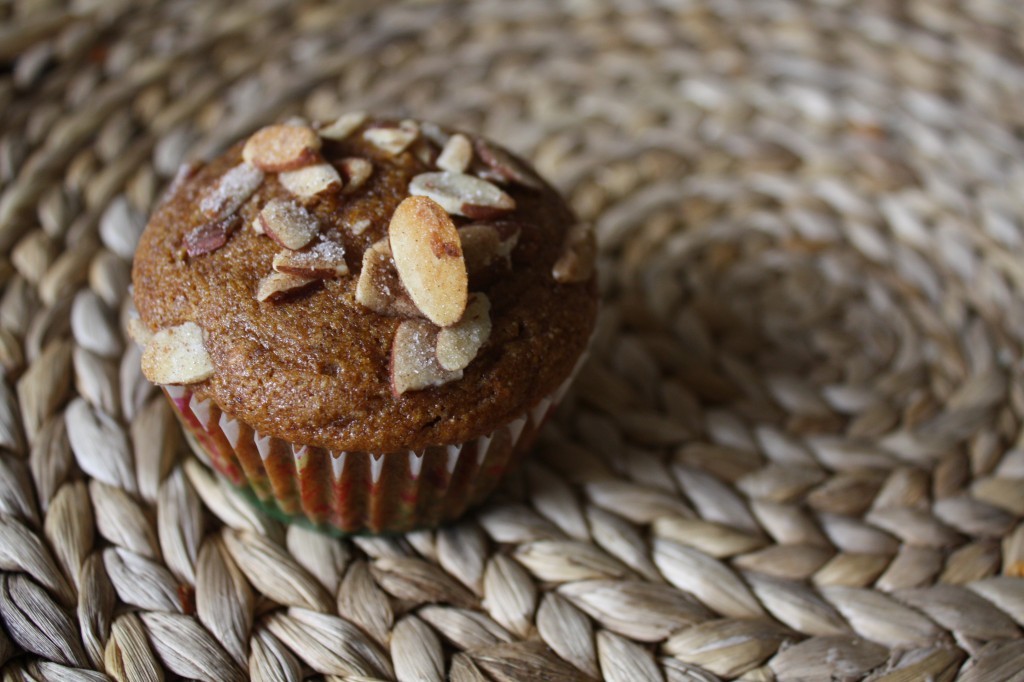 Ta-daaaa!
It is the best pumpkin muffin I've ever made. So soft and moist. Perfect flavor. and light. (If you want dense, go for the Starbucks loaf).
So here's how it happened. I stumbled upon the 100daysofrealfood blog. Check it out. Good stuff. All about cutting out processed food. I've made the whole wheat muffins twice. And they're good, but whole wheat is a strong flavor. My kid eats them and loves them though, so I'll keep experimenting. A healthy snack is a healthy snack. Plus, with an iced coffee, it works. But when I saw the pumpkin muffin recipe that calls for Whole Spelt flour I was intrigued. Milder flavor, she says? Oh yeah! These muffins taste better than any pumpkin recipe I've tried using all purpose flour. And instead of sugar – honey!
I'm eating deliciousness, and it's not bad for me!!!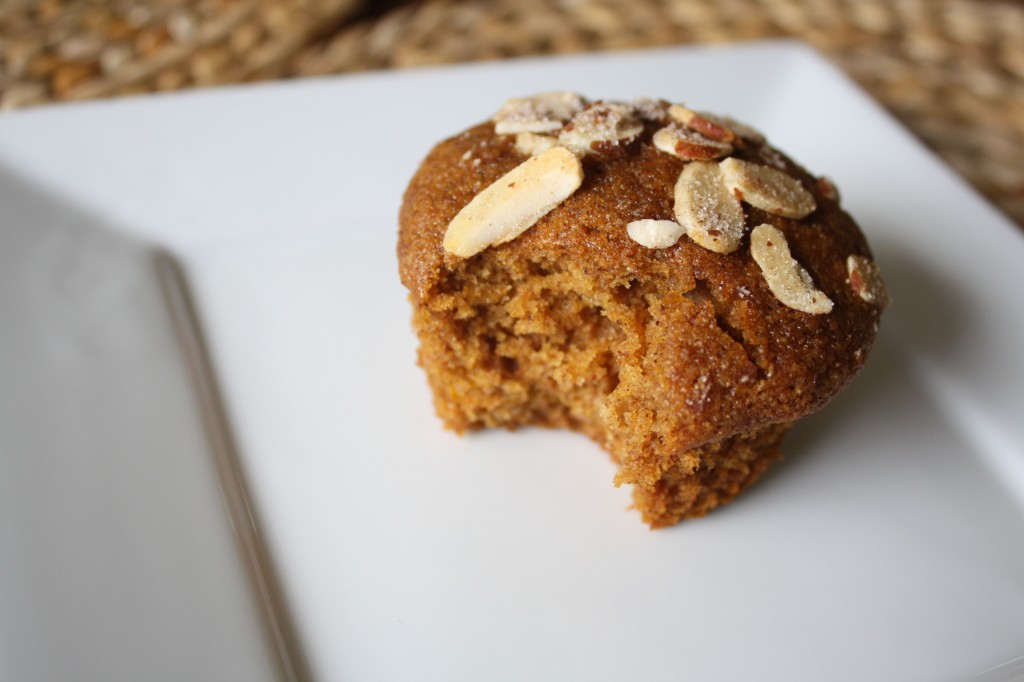 Here's the thing: I added my own extra little topping. It's like the icing on the cake. The muffin would be incomplete without it. (Personally, I think all muffins should have a topping. Don't you?)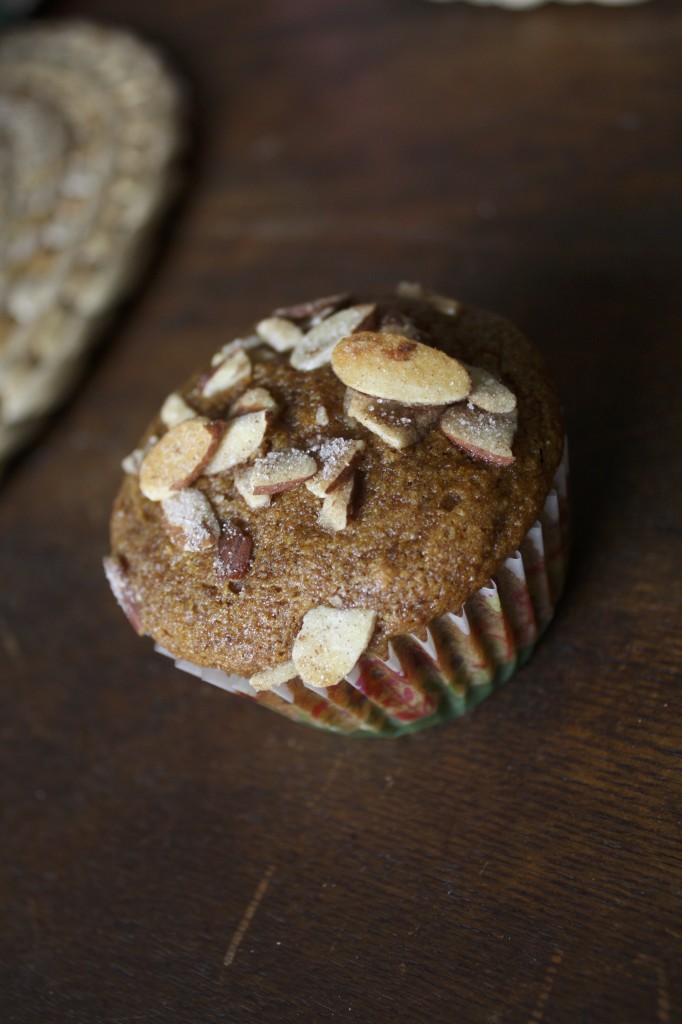 This little beauty is topped with Trader Joe's honey roasted sliced almonds and a tiny bit of cinnamon sugar. Not healthy? Whatever. I'm all for eating sugar in moderation. If this isn't moderation, I don't know what is!
So you probably have a few questions, like what is spelt? Basically it's an ancient whole grain. Been around forever. It's a type of wheat.
Why is it good for me? Because it's not processed and refined like a white flour so you're body actually gets nutrients from it.
And THAT is the purpose of food. To give our body nutrients. When food is delicious, AND my body is actually benefitting from it, I am a very happy girl 🙂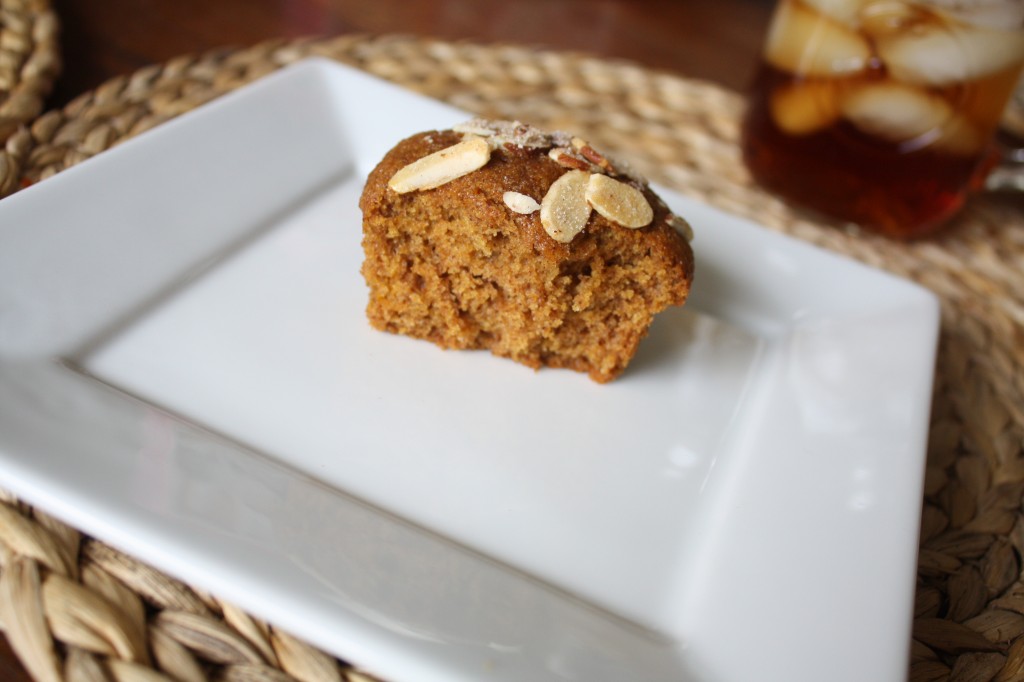 RECIPE
yields 12 muffins
1½ cups whole spelt flour
1 tablespoon pumpkin pie spice blend
1 teaspoon baking soda
¼ teaspoon baking powder
½ teaspoon salt
2 eggs
½ cup honey
⅓ cup melted butter
1 cup pumpkin puree
1 -2 tsp cinnamon sugar
2 Tbsp sliced almonds (honey roasted or plain)
Preheat the oven to 350 degrees F. Line a muffin pan with liners and set aside.
Using a whisk or fork mix together the flour, pumpkin spice, baking soda, baking powder, and salt.
Make a well in the center of the flour mixture and drop in the eggs, honey, and melted butter. Incorporate the flour mixture into the wet ingredients a little at a time using a spatula (or spoonula). Mix together until well combined. Fold in the pumpkin puree. Do not overmix.
Scoop the batter into the muffin pan so it's evenly distributed. (
Top with sliced almonds and cinnamon sugar. You may want to use 2 tsp of cinnamon sugar if using plain almonds.
Bake until golden brown and a toothpick comes out clean, about 18 – 20 minutes.
Enjoy with an iced coffee! Store at room temperature or freeze for later.