Buongiorno! We arrived in Roma at 8:30 AM local time. My full amount of sleep on the plane was approximately 1 hour – ha!
The drive from the airport to our hotel was in Josh's words "probably the scariest ride of my life." I definitely expected crazy driving so I mostly laughed about it. Until we slammed on the brakes to keep from hitting pedestrians.
As our rooms were not ready at check in we left our bags with concierge and set out to find a bar for espresso and pastries. (Many thanks to Riccardo for his patience with us at check in and for knowing how to spell our last name!!! Yay! We are in Italia! I don't have to spell out our name. That lasted all of 5 minutes when we got to concierge where the guy tried to put an "a" where the "o" should be ?)
On our walk to find food we happened upon a church at the Quattro Fontane (4 fountains – one on each corner of the small intersection) We stepped inside the small church and enjoyed the beauty of our first Roman sight. I picked up a few small cards as free souvenirs – pretty little artistic things – and the search for espresso and pastries continued.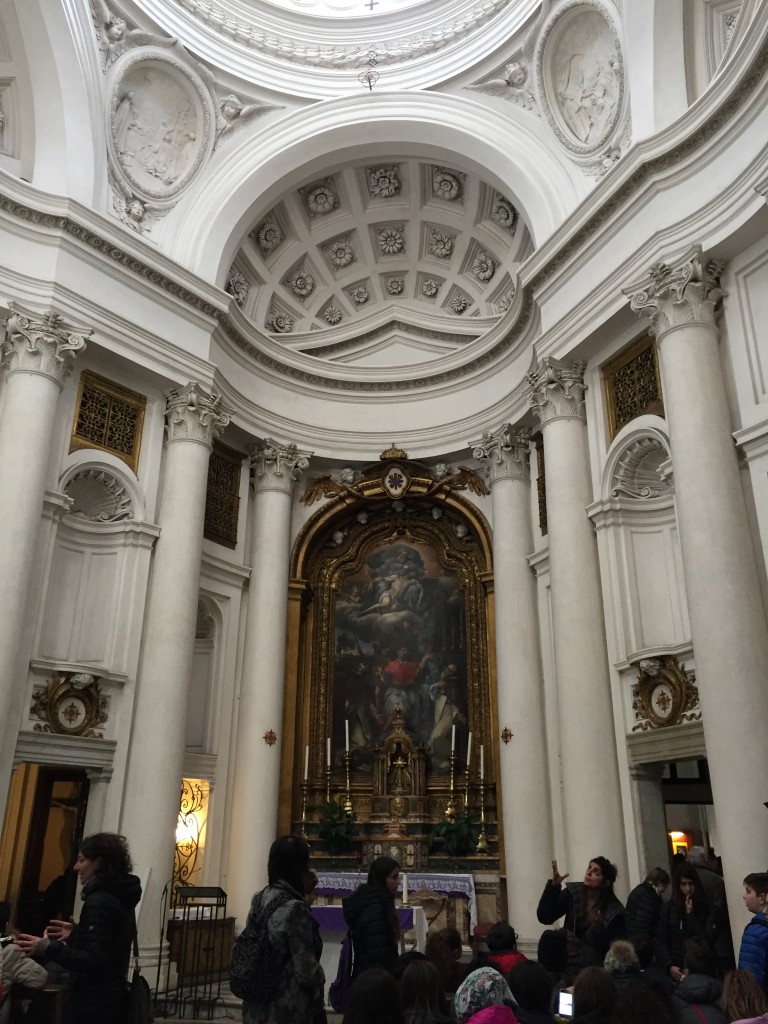 We found a bar and Josh ordered an espresso while I ordered a latte macchiato. We each grabbed a pastry as it was breakfast time but the homemade tiramisu would've been next on my list. The number of choices was overwhelming!  We quickly ate and finished our drinks as this is the Italian way and back we marched to our hotel just in time for siesta! A 3 hour siesta to be exact. Thank the good Lord Italians believe in the siesta, because I needed it!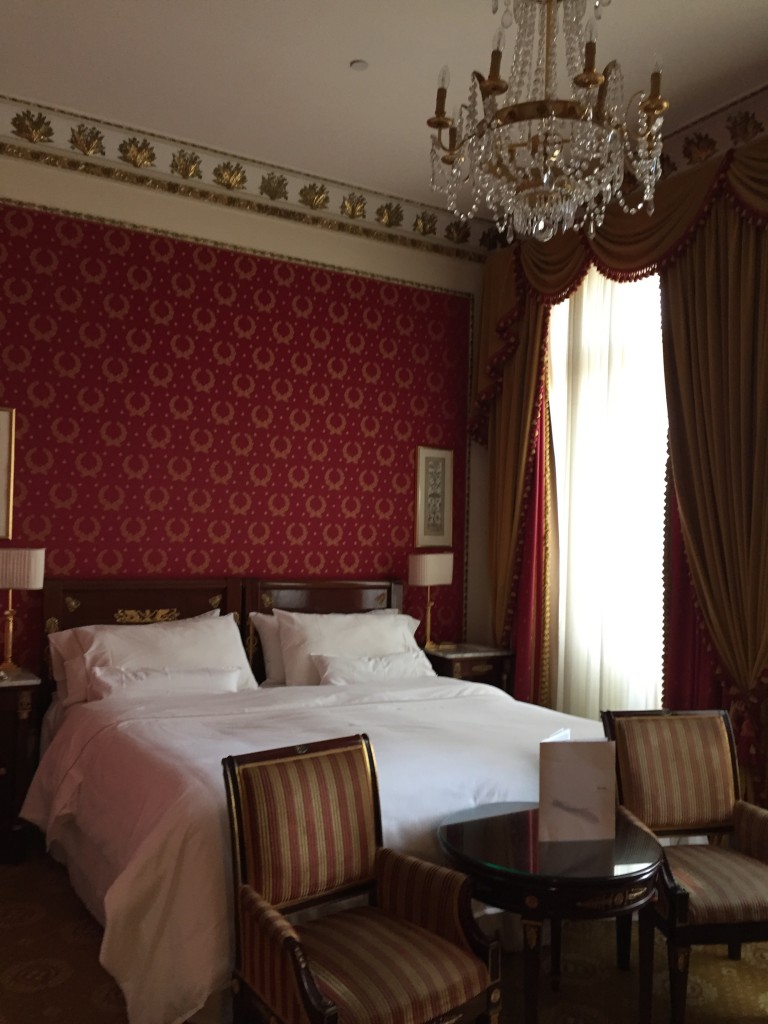 Once up and refreshed we headed to the supermarket just down the street which turned out to be a jackpot if only for the delicious green olives in oil we found with all the breads and cheeses. We grabbed all of the above with a bottle of red wine and basically finished the olives before we could even try anything else – yum!
At 7 PM we went to the welcome reception for AmeriLife (the company my father-in-law is with) and enjoyed drinks and hors d'oeuvres. We had a wonderful time laughing and chatting it up!
Trevi Fountain was next on my list! I knew I wanted to go at night, and it is just a short walk from our hotel. It's cold in the evenings so I bundled up, and of course went looking for gelato. Growing up my family vacations to cold places always involved ice cream for some reason. It's completely backwards, but I guess at this point it's ingrained in my person.
The fountain is gorgeous at night! It is completely romantic, and I totally recommend it as a night spot. In fact, I very much liked walking Rome at night or in the evening as compared to the morning.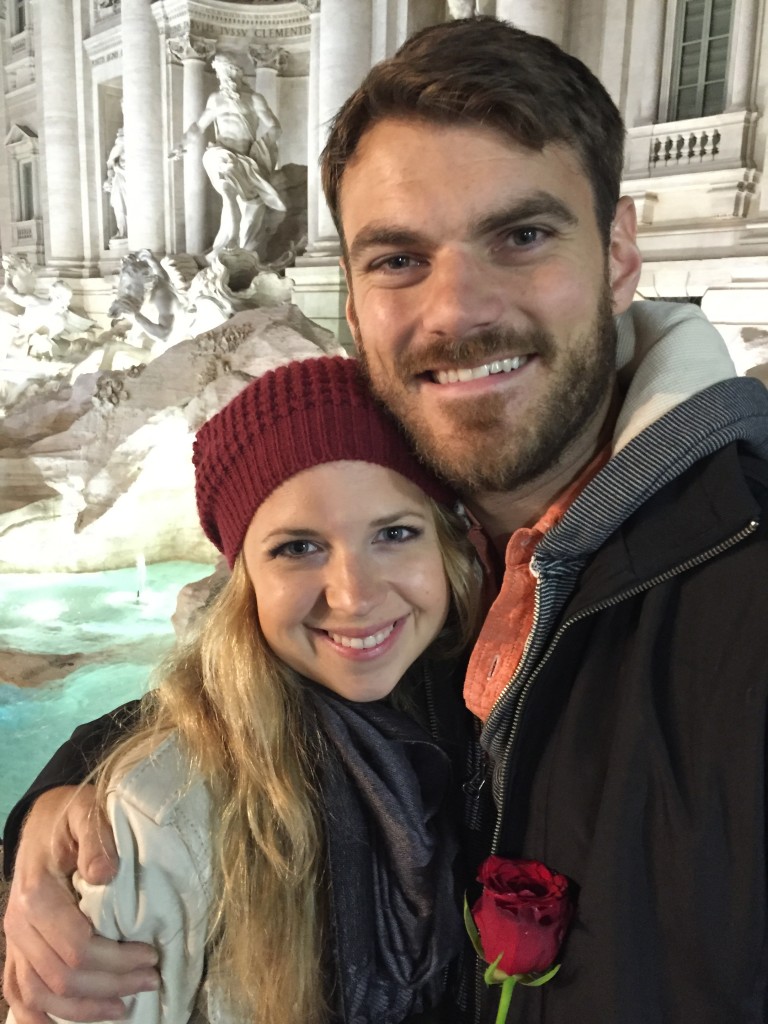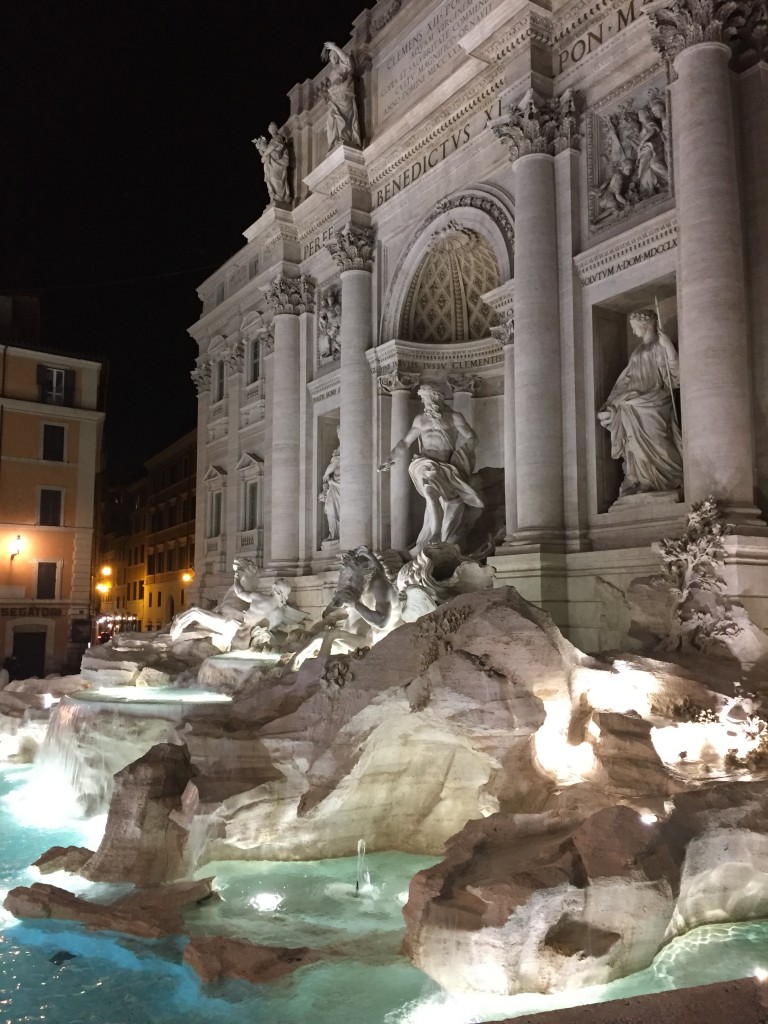 I picked our gelato spot based on the "muted" looking colors of the gelato as this is recommended over the brightly colored gelato. (Look, guys, I did my research. Gelato's important.) We made friends with the man who served us, and he gave me an extra scoop of gelato. He then preceded to share with us a hilarious video on YouTube about Italians speaking English. Caution: it is heavy on the cursing, but that's the joke behind the whole video. I think what made it all so funny was this random Italian man who wanted to share it with us.
Overall, a fantastic first day. Buona sera!
Italy Trip Day 2 – Rome & the Vatican
Italy Trip Day 3 – the Roman Forum & Colosseum
Italy Trip Day 5 – Galleria Borghese & the Pantheon
Italy Trip Day 6 – Gallo Matese
Italy Trip Day 7 – Family Legacies (Gallo Matese)