We are entering the season of dinners and parties and dinner parties :) and I can't help but get excited. I want to plan all sorts of special evenings and yet it is the hardest time of the year to do so with all the commitments everyone has, not to mention it's wedding season in Florida so my work schedule picks up as well. I'm a planner at heart, and I love events. I love the planning, the decorating, the cooking and baking. It's a serious passion. I'm already thinking ahead to my kids birthdays and trying to rein myself in at the same time.
For G's 1st birthday we did a "Sweet Shoppe" theme, and I thought I'd share the details here.
I created a "logo" and used it on the sign above the sweets table and as well as on the invitations I designed.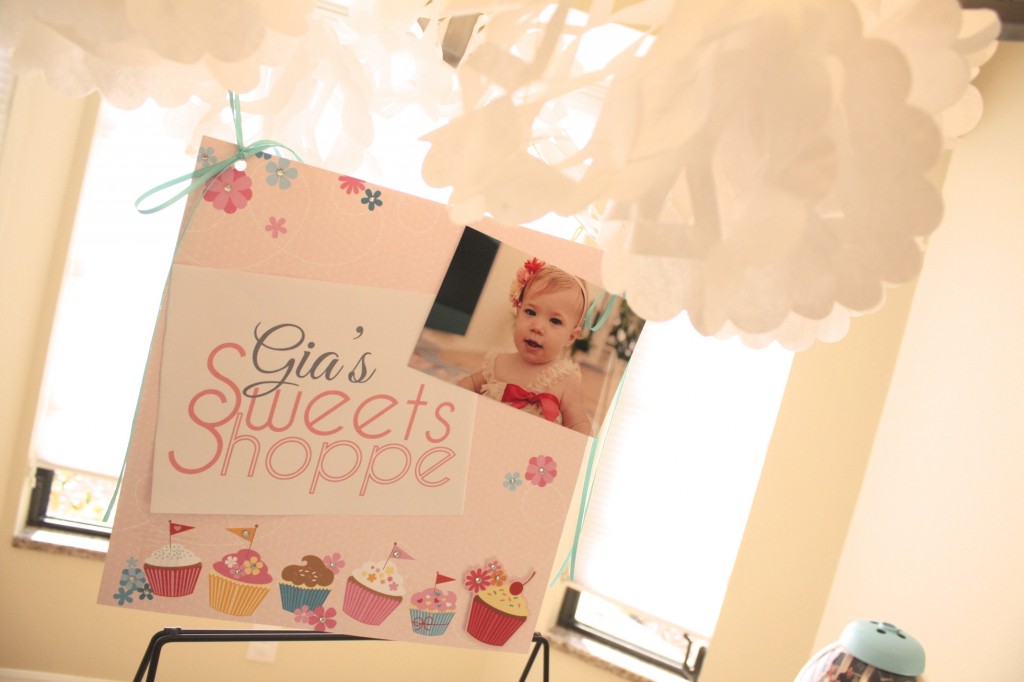 I made the cupcakes and her cake the day before and frosted them the morning of. Strawberry cupcakes with fresh strawberry buttercream frosting. Yum…
We used the bubblegum machine as a prop for her 1 year photos and then used it to hold those same photos at her party. It's now used to decorate her bedroom.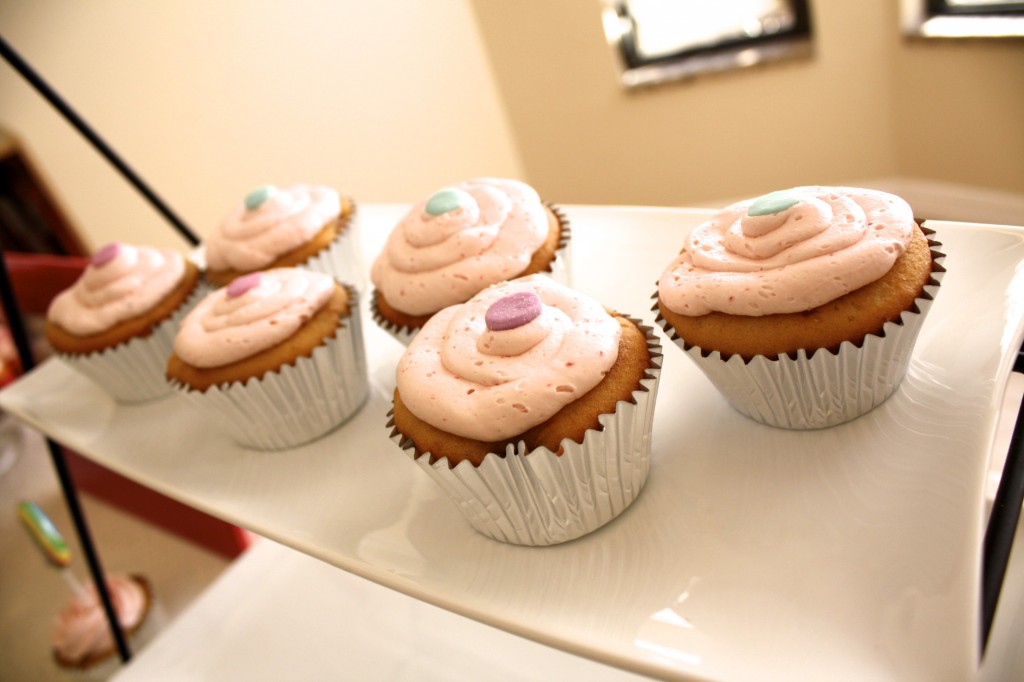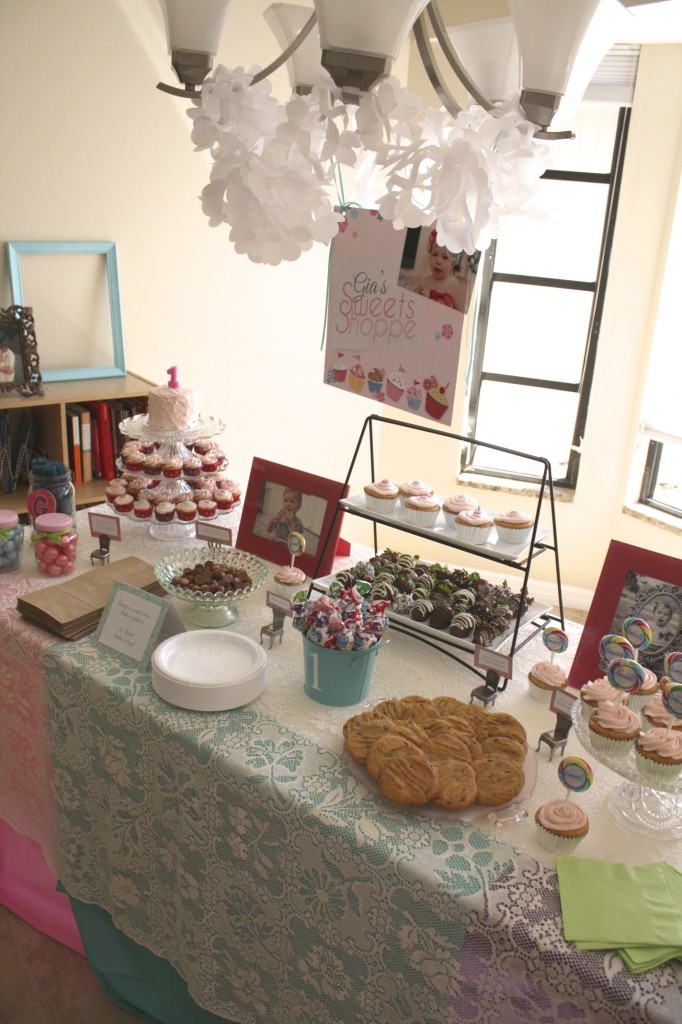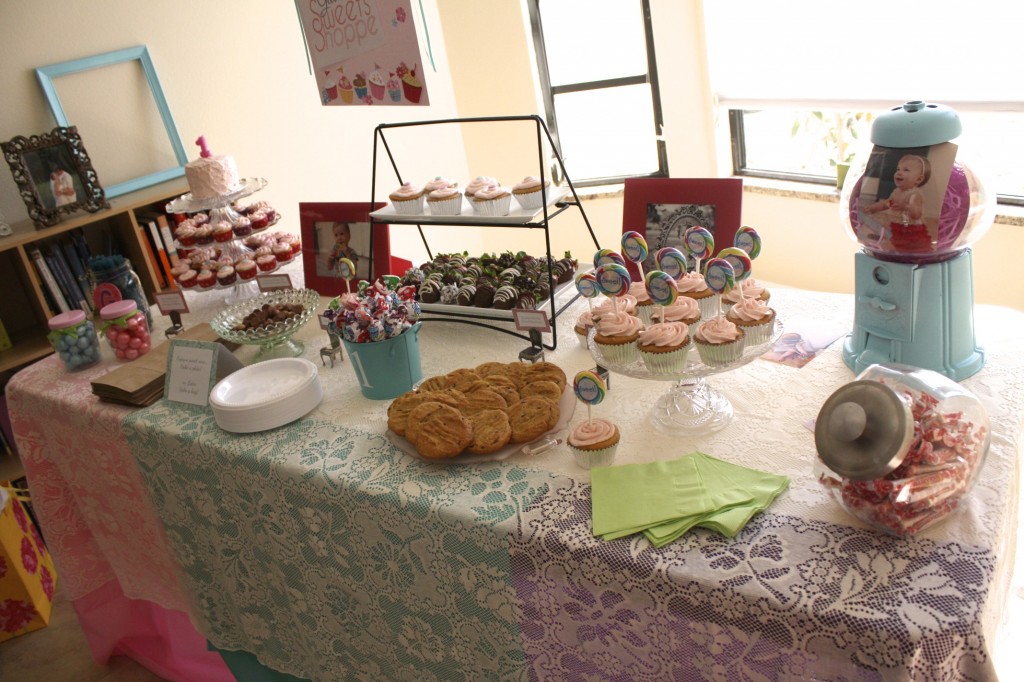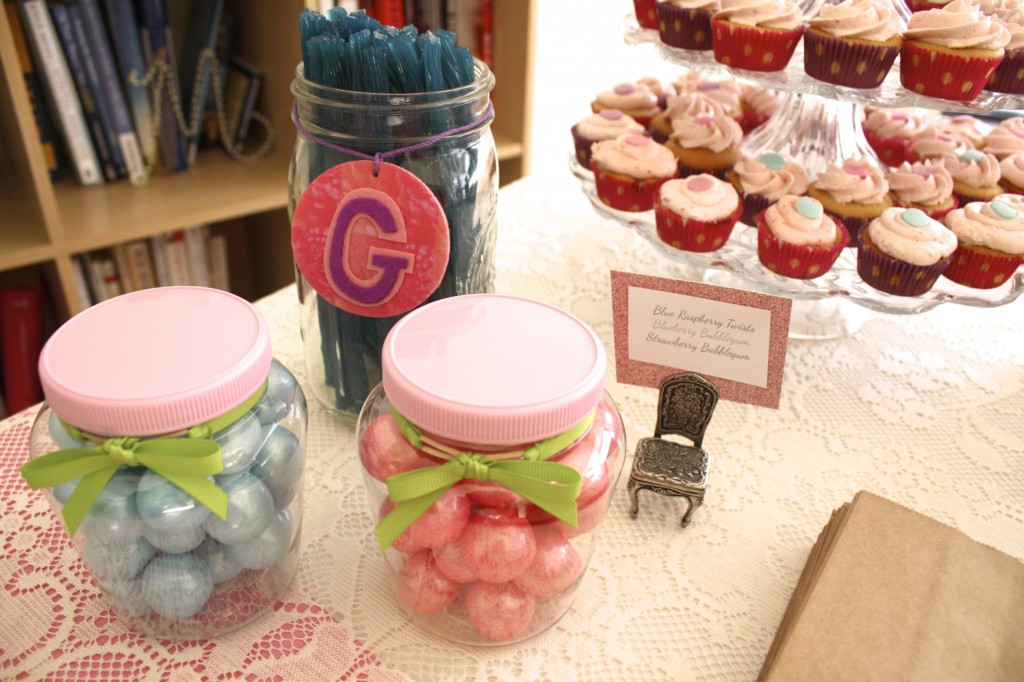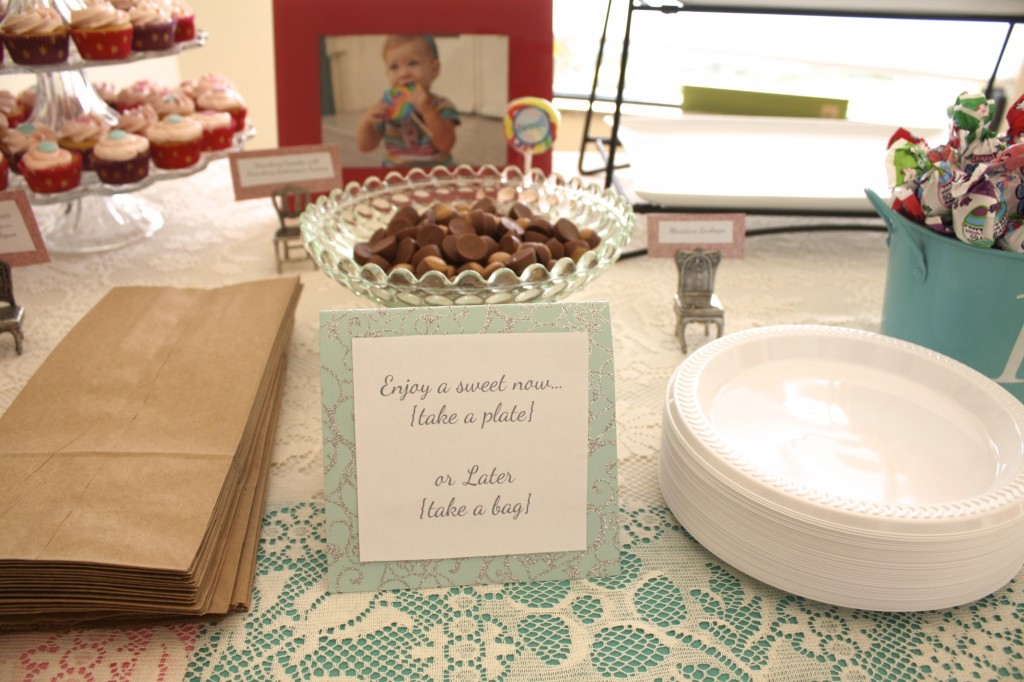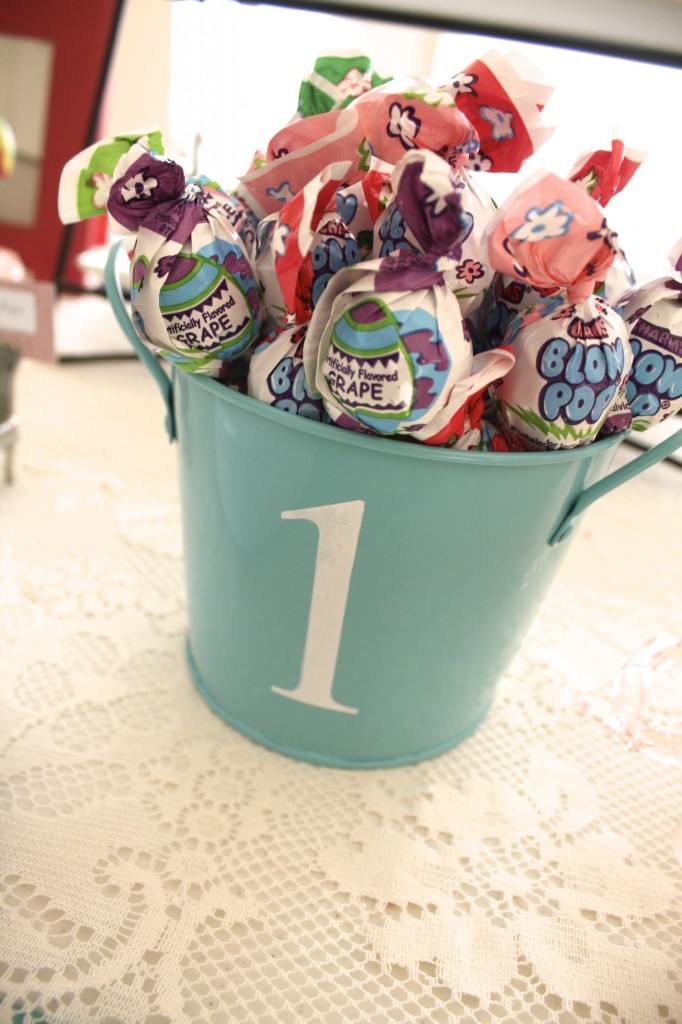 I asked my mom (aka Grandma) to make chocolate covered strawberries. It's kind of her thing. She makes them for special occasions. She used some special topping choices for G's party. Milk chocolate & white chocolate drizzle, coconut, and mini chocolate chips. To. die. for.
I asked my grandma (aka G's great-grandma) to make her chocolate chip cookies. They are so perfectly chewy, and with the perfect amount of chocolate because she uses the mini chocolate chips. Every time we go to Grandma's house G asks for these cookies, and Grandma always has them for her. I think Grandma shows her love in the form of baked goods… and I am completely okay with that! haha
I gave myself a lot of time to prep for this party. I started buying things a couple months in advance. And I planned a meal that Josh was primarily responsible for so I could focus on everything else. The meal was simple: marinated grilled chicken, a salad, and baked macaroni and cheese (provided by my mom). I also test baked a cake the week before which is kind of insane now that I think about it… I was committed.
For a one year old's birthday I knew we needed to be flexible. There wasn't a lot of structure. People ate as they arrived. G opened gifts throughout the party and played the rest of the time. We did the typical smash cake…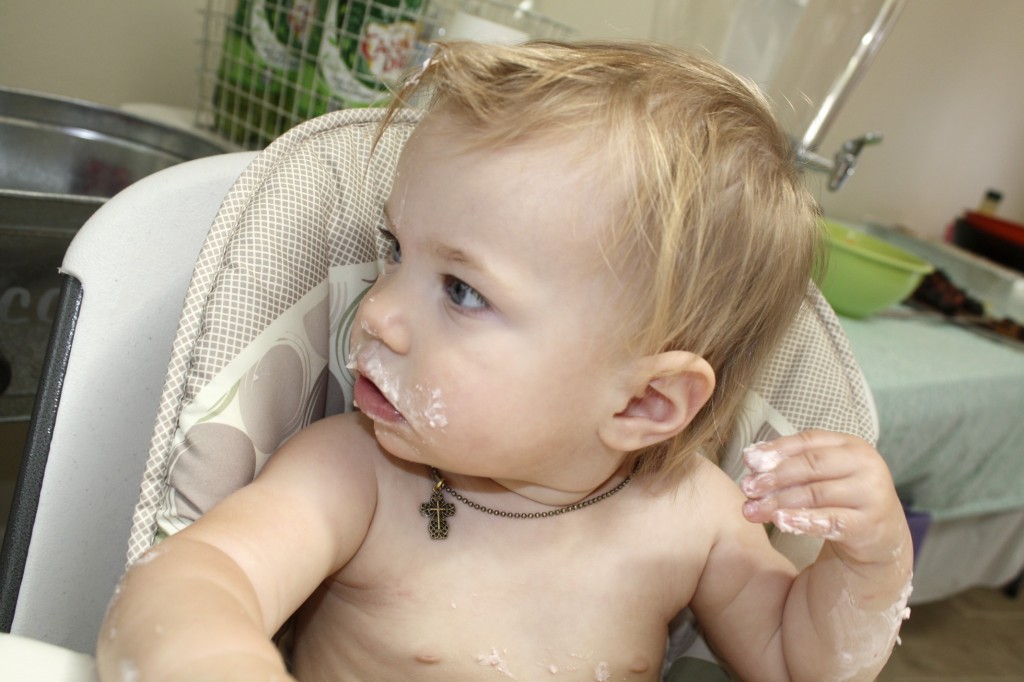 We picked out a large selection of home videos of G and had them playing in a loop on our TV on low volume so people could watch if and when they wanted. You can make a playlist of movies in iTunes on your computer and then play it on your TV using the Apple TV. I also printed out around 100 photos of G's first year of life and had them laying down the length of the tables where people ate and pinned them up with clothespins elsewhere.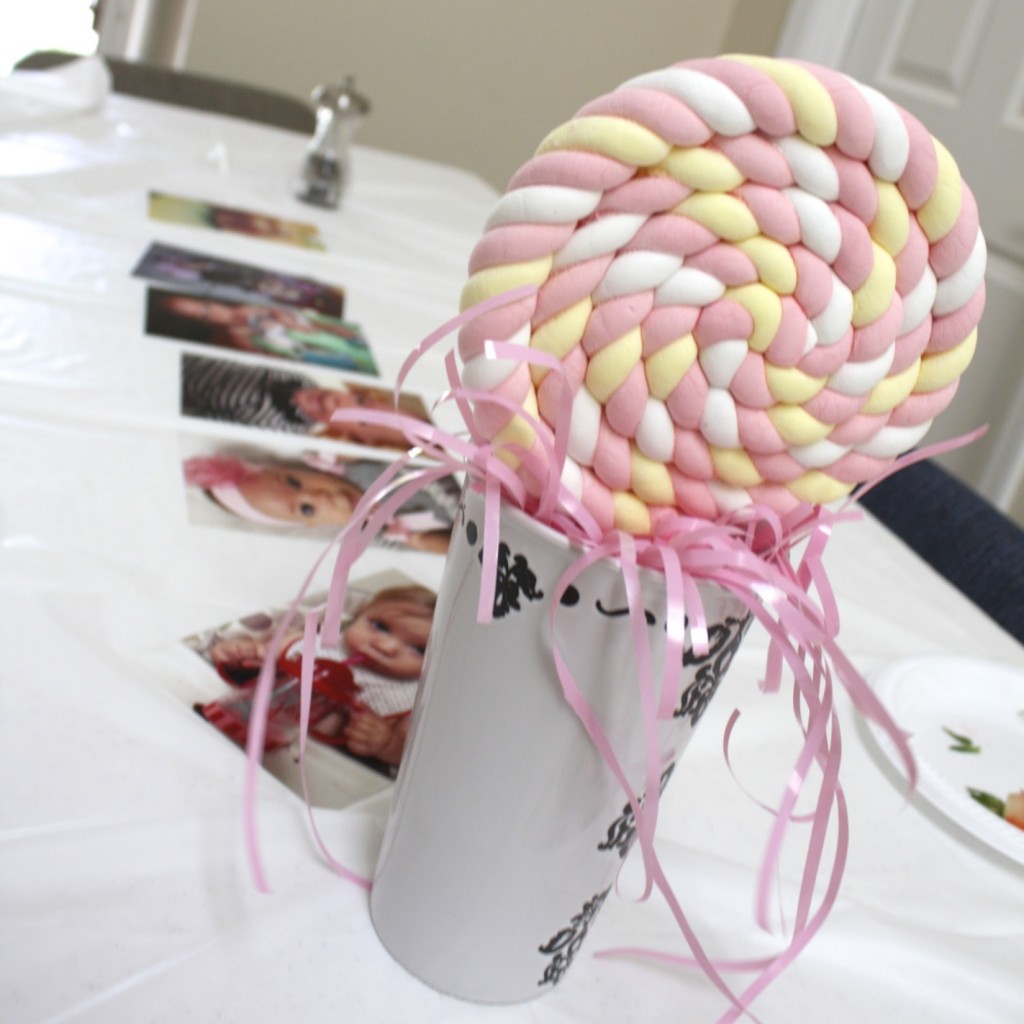 It was a beautiful day so we opened up the house and people just flowed in and out. I loved it. I think the art to planning anything is to plan, prepare, and plan some more, but when the day comes be flexible and enjoy it. It's easy to kill the enjoyment of an event by stressing that everything is perfect. In the end it's not about the decorations or the food. It's all about the people.