12 Year old birthday parties… oh the awkward middle school years. Actually, I think my awkward years lasted through high school. Wait. This thought JUST came to me: What if I'm still in my awkward years and no one has told me!?!
I'll examine that later.
So this here is a short little inspiration post for an after school party.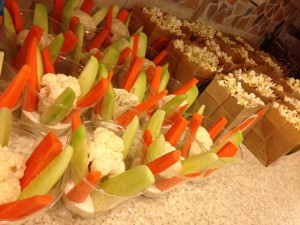 My sister is 12. Yeah I know – big age gap. She started Kindergarten the same year I started college.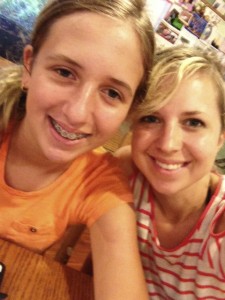 Anyway, for her birthday she had a bunch of girls come home with her one Friday after school. My mom owns a Ford Excursion so check off transportation for small army of screaming tweens. We had individual servings of snacks and drinks waiting for them when they arrived.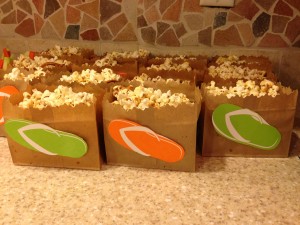 Snacks
Layered Chip Bag: 4 different snacks layered in one bag. Kettle corn is on top, but hiding underneath were pretzels, Doritos, and maybe some Sun Chips or Lays. Totally your choice. Make it good. We trimmed brown paper bags with some fancy scissors and mom found the flip flops at a party store. Enter double-sided tape. Done.
Veggie Cup: This was a big hit. NOT. We tried to be healthy, but with no parents there to make them eat their veggies, they of course did not. A little bit of ranch in the bottom. Sliced cucumbers, carrots, and cauliflower. And they totally coordinated with the flip flops on our snack bags!
Drinks
Limonada: (Spanish for Lemonade) Kidding. There was nothing Spanish about it. Unless you count the straws. They look like they could be from some touristy destination in Cancun or somewhere. Want to add instant fun to your lemonade? Add some syrup options. We had raspberry, but blackberry is my all time favorite in Lemonade. Ah-mazing! You can pick these up for under $5 at Sam's Club or order them online.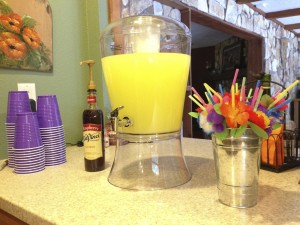 Activities
Most of the activities were outside. It IS a pool party after all! They played volley ball and basketball until they got sweaty enough to jump in the pool. However, there was one activity my mother and I slaved over.
Fabric Flip Flop Craft:
Step 1) Buy a bunch of cheap flip flops in different colors and sizes and an assortment of fabrics. We tried to pick a mix of solid and patterned that would all mostly coordinate.
Step 2) Painstakingly cut fabric into strips approximately 1″ by 5″
Step 3) Return flip flops and hope to find another use for fabric strips when girls are too busy playing outside all night to ever do the craft!
Lesson learned: Planning lots of crafts and activities for kids (or even ourselves) is great and fun, but sometimes we underestimate the value of "just playing outside" or "just being with friends".